How about a freebie add on to my new kit? Included are 4 papers and 17 elements which I hope you'll like.
12 x 12 version can be downloaded
here
Taggers size
here
A couple of 12x12 quick pages as well? The can be downloaded
here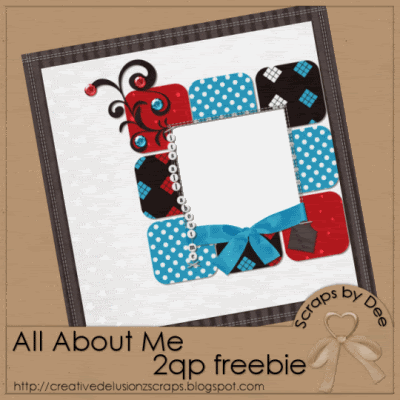 Now for a chance to win the full kit... What I want you to do is make a layout using one of my kits with half the page (or more) used for journaling. Tell the story behind the photo or write about the person in it. Anything you want afterall it is your layout! As long as there's a lot of journaling going on, you'll have a chance to win the kit. I've included one that I've done just so you can get a rough idea of what I'm after.
Taggers - just follow the same guidelines and make a tag.
Neither are to be larger than 600 pixels on the longest side.
When you're ready send me your layout to: taggedbydee@googlemail.com with All About Me Comp in the subject line. I must stress how vital that you put that in the subject line otherwise it risks being deleted and not counted. Send me your layouts by
Saturday January 17th 4pm GMT.
10-20% of all entries will win the kit, the more people that enter, the more winners so spread the word.
Good luck & happy scrapping!